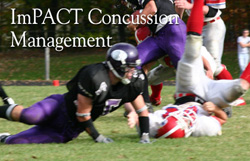 Concussion management is a hot topic these days and as an Athletic Therapist I have had my share of challenges in managing concussions.
I have interviewed an Athletic Therapist who has dealt with many concussions over the course of her career.
She is an active member in concussion management and is very passionate about spreading the awareness of managing this very serious sport injury to athletes, coaches parents and health providers.
Find out how this Athletic Therapist manages concussions as she gives her insight with a step by step process:
For Complimentary Access to the interview and MP3 Download (valued at $47)

click on the link below:
PLEASE SHARE and HELP SPREAD THE AWARENESS
Michael