Happy New Year!
I hope 2011 brings you health and happiness…
So I wanted to write a post about a client who
came to see me for low back pain.
Quick History:
57 year old female with chronic nagging low back pain,
hyperlordosis and an avid golfer who especially complains
of pain with walking.
I treated her lumbar spine for segmental flexion restriction
using manual therapy techniques, specifically unilateral
flexion mobilisation of the right L4-5 and L5-S1 facet joints.
Also treated her for a presenting right sacroiliac upslip
using long leg distraction manipulation of
the right sacroiliac joint.
Her lumbar spine mobility and sacroiliac joint function both
improved however she still continued to report lumbar pain
especially after any walking activites.
This prompted me to look more closely at her gait pattern as
this is when she complained of her pain. I noticed that she
had a decreased left stride length and decreased left hip
extension on the right.
So I looked at her hip joint more closely and found her to
have restricted hip extension and external rotation. Manual
therapy assessment of her hip joint revealed anterior capsular
restriction with inhibited gluteals.
Manual therapy treatment of her hip consisted of an anterior glide
joint mobilsation in an extension and external rotation quadrant.
I have included a picture below for your visual benefit.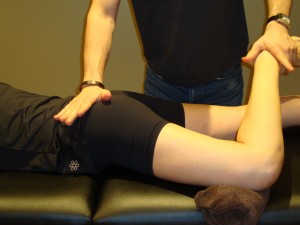 After three treatments in this manner and supplimenting with
gluteal activation through a bridging exercise and
external rotation stretching, her back pain dissappeared.
The Lesson of this post:
Sometimes low back pain is secondary to a hip extension restriction.
The low back pain is due to the lumbar spine hyperextending
for the lack of hip extension during gait.
So look for it!
To Your Manual Therapy Success!
LET ME KNOW IF YOU HAVE SEEN THIS BEFORE