An interesting clinical pilot study was recently
published in The Spine Journal that looked at changes in lumbar
disc height before and after normal sitting with the use of
a seated unloading exercise intervention.
Fryer et al. (2010) used upright MRI to measure changes in height
and configuration of the lumbar discs after sitting and a chair-care
decompression exercise.
Their premise is that sitting is associated with loss of lumbar lordosis
disc compression and height loss which possibly increases the risk of
low back pain.  So they proposed a practical strategy for the sitting based
jobs to prevent lumbar flattening and perhaps low back pain.
MRI scans of the disc height were taken at various intervals:
before sitting, after 15 minutes of relaxed sitting, immediately after
the seated unloading exercise and again at the 7 minute mark after
the exercise.
Their limited anectodal findings indicate that the chair-care exercise
has an immediate effect on the sitting related low back pain through
a spinal decompression effect.
Below is a picture of the exercise:
it involves 5 seconds of unloading and 3 seconds of reloading
and repeating the sequence 4 times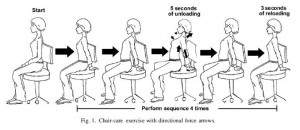 Although the current study has several limitations this seated unloading
exercise may represent for the manual therapist a symptomatic and even
preventative intervention for sitting pain among sedentary workers.
Adapted from:
Fryer J, Quon J, & Smith F. Magnetic Resonance imaging and stadiometric assessment of the lumbar discs after sittingand chair-care decompression exercise: a pilot
study.  The Spine Journal 10 (2010) 297-305.
To Your Manual Therapy Success!
PLEASE COMMENT AND SHARE
Michael