Yes it does….
Gross et al. 2007 report in their
systematic review of 84 randomized controlled
trials (RCTs) that there exists strong evidence
of being able to control mechanical neck pain.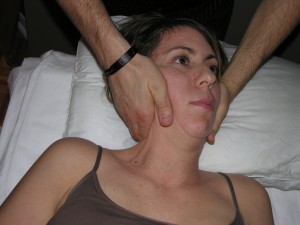 However, a multimodal approach including stretching
and strengthening exercises, and mobilization and
manipulation techniques, was significant in
improving function and decreasing subacute and
chronic mechanical neck pain.
There was moderate evidence to support the use
of intermittent traction as a manual therapy
technique. This is especially true when combined
with direct neck strengthening and stretching
exercises for chronic neck pain.
Acute pain was defined as pain lasting
less than 30 days, subacute pain 30-90 days
and chronic pain as being greater than 90 days.
Clinically, I have found that when I have
incorporated exercise with manual therapy techniques
of the neck, pain and mobility significantly improve.
Adding in exercises like deep neck flexor
strengthening, and stretches of muscles like
Levator Scapula, Scalene Muscle group and
Suboccipital Muscle groups have been very
useful for my clinical practice.
For more detailed information on this topic,
I highly recommend to read the following article:
Gross et al. Conservative Management of Mechanical
Neck Disorders: A Systematic Review. 
The Journal of Rheumatology 2007; 34:3
To Your Manual Therapy Success!
Please comment and Share.